Written by Leah Waters with The Dallas Morning News 
---
"Mesquite city leaders and Huffines Communities broke ground Wednesday on what the developers called their "crown jewel," a 3,900-home project that will sit on 1,530 acres of the historic Lucas Farms.
The project in Mesquite's mostly quiet and rural southern sector was a vision 20 years in the making for city leaders, and a two-year journey for the Huffines family.
Huffines Communities founder and co-owner Phillip Huffines spoke Wednesday afternoon to a crowd about a collective vision among city leaders, the Lucas family and the Huffines group, and of Mesquite's eagerness to develop the land that sat vacant for decades.
Huffines showered praise on the city's staff for their "straightforwardness, honesty and vision."
"I have worked with probably almost every single city or town in the North Texas area," Huffines said. "And for the last year and a half, I've been working personally with the city of Mesquite. And I want to tell you that the city of Mesquite is the best city I have ever worked with."
Mayor Bruce Archer spoke of innovation and opportunity, traits that he said Faithon P. Lucas had when he first immigrated from Greece in 1906 and settled in what's now South Mesquite.
"He had 75 cents in his pocket. He had the quest of opportunity in his heart," Archer said. "He would be honored as the most prolific farm-to-table restaurant here in Dallas."
Wednesday's groundbreaking marked the end of a chapter for city leaders after 20 years of courting developers and the beginning of construction for Huffines Communities.
Huffines said the handful of attempts to develop the land in the past failed because the parties couldn't agree on the economics.
"Whether it be the sales price of the land or the entitlements from the city," Huffines said. "You know, timing is everything."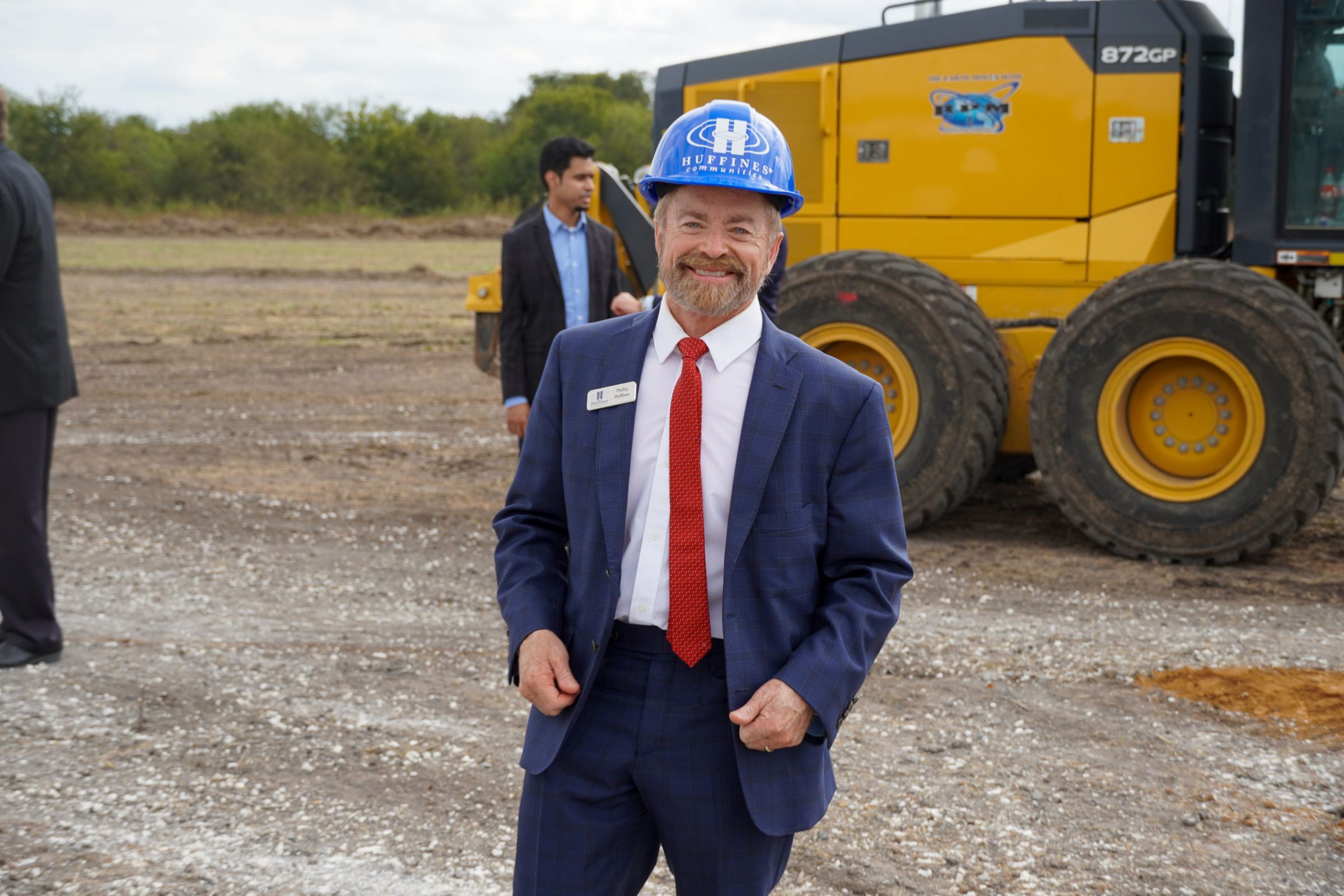 The timing, economics and vision all clicked into place after the Huffines family spotted the tract of land about two years ago and reached out to the Lucas family.
"Don Huffines has been eyeing this piece of property for a number of years now," said Elvio Bruni, president of Huffines Communities.
Bruni said a large part of landing the deal required developing not just the homes but also a relationship with the Lucas family.
"They didn't want their piece of property they've held for 100 years just for us to come in and create a subdivision," Bruni said.
As the largest planned development in Mesquite, Solterra will be a leap above a subdivision for the area.
"I've been a part of some fantastic communities, from Waterview to Providence, Savannah and Floridian," Bruni said. "But I can tell you that Solterra is going to be the crown jewel. It is going to be uniquely special."
Solterra's amenities are planned to rival those of a resort, with a pool complex, access to a 30-acre lake, bike and hiking trails, a fitness facility, a dog park, and a beer garden. The community will also feature a restaurant, an event lawn, and space for a farmers market and food truck park.
Huffines also plans to preserve the native pecan groves, orchards and pastures with 560 acres of open space. A 54-inch-wide (at the trunk), 150-year-old red oak tree will serve as the anchor to a custom-designed treehouse created by the makers of HGTV's Treehouse Masters show.
Councilmember Daniel Aleman, who is running for mayor in November's municipal election, said his District 6 has historically been a "bedroom kind of community." Residents who live in Mesquite's southeastern sector have often lamented the lack of retail, restaurants and grocery stores.
But Aleman says the expansion of development in his district is often met with mixed opinions from residents.
"There are those folks who have enjoyed the country living, the country life, the larger acres out here," Aleman said. "But then there are others that are excited about more growth, more development."
Aleman said Solterra is one of 12 residential developments in the works that will add about 10,000 homes to the city's housing stock over the next decade."