Landscape architecture is the art of designing and creating outdoor spaces that are both functional and aesthetically pleasing for residents. At Huffines Communities, we understand the importance of integrating thoughtful landscape architecture into our North Texas master-planned communities. Huffines Communities' goal is to create a natural environment that complements the homes built, and we do this by incorporating the natural features of the land into our designs.
One of the key ways Huffines Communities utilizes landscape architecture in our developments is through the creation of green spaces. From community parks, walking trails, and open spaces, we believe that these spaces play a crucial role in promoting healthy and active lifestyles for our residents. Our master-planned communities are designed with outside spaces that are easily accessible, providing a natural setting for outdoor activities and events.
In addition to green spaces, Huffines Communities also incorporate water features into our landscape designs. Whether it's a tranquil pond, a beautiful lake, or a sparkling fountain, these features add a sense of tranquility and serenity to our communities. Lakes and ponds also provide opportunities for residents to engage in Texas water activities such as fishing, kayaking, or paddle boarding.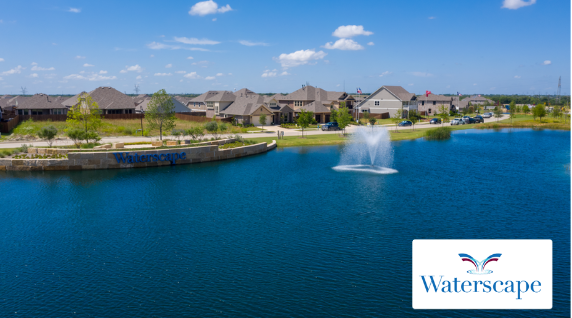 Huffines Communities is proud to offer a range of stunning communities across North Texas, including Heartland in Crandall, Inspiration in Wylie, Waterscape in Royse City, and our newest community, Solterra Texas in Mesquite. Each community boasts its own unique features and amenities, from tranquil lakes and sparkling fountains to resort-style pools and state-of-the-art fitness centers. And with a focus on thoughtful design and quality of life, new home buyers will be living in a vibrant and welcoming community that will enhance their daily life.
At Huffines Communities, we understand that landscape architecture plays a critical role in creating the most thoughtful development of new homes. Our focus on integrating exceptional design into our master-planned communities ensures that our residents can enjoy beautiful, functional, and livable spaces that enhance their quality of life. Whether it's through green spaces, water features, or parks, Huffines Communities is committed to creating the perfect place to call home in Texas.