Business is booming along the 380 Corridor as a much-needed response to the population explosion in the area where US380 intersects with Dallas North Tollway.
Among the arriving businesses is Texas Health Neighborhood Care & Wellness- Prosper, following in the footsteps of Baylor Scott & White Medical Center, which opened back in 2012.
This new state-of-the-art healthcare facility is part of Texas Health Presbyterian Hospital Plano. As they say, "membership has its benefits."
One of the coolest advantages enjoyed by patrons of Texas Health Prosper is when a patient needs to be care flighted to Presby in Plano, the hospital in Plano will pay that bill.
Additionally, if a patient needs to be transported to a hospital outside the Texas Health network, the network will pay for that transfer. Talk about customer service!
In addition to that surprising benefit, Texas Health Prosper will feature a wide range of medical services including a 24-hour emergency center, imaging and preventative care, and a full fitness center with affordable membership prices.
Texas Health Prosper is located on the corner of US380 and Mahard Parkway, one mile west of the Dallas North Tollway.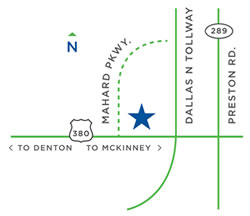 They are hosting a Grand Opening Celebration on Saturday, February 11, 2017 from 9am to noon.
This event features healthy activities to engage the whole family, including healthy cooking demos, a CareFlite helicopter landing, and a teddy bear clinic! Take a tour of the new facility, get your face-painted, or stop by for a free health screening.
This new facility is sure to become a one-stop shop for the health and wellness needs of its surrounding residents. Welcome Texas Health Prosper to the neighborhood and have some healthy family fun by stopping by their Grand Opening Celebration this Saturday!
Find additional information about the event and the facility itself on their website.